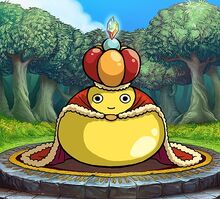 King Bean is the king of the Rainbow Kingdom. He is the one who gives you your starter Gemling. If you have enough Rainbow Gems (5), you will be able to summon a Gemling that is added to your Gemling Box.
King Bean only gives one of all existing Stage 1 Gemlings with Very Rare, Champion or Legendary rarity.
Some Gemlings, such as Daily Stamp exclusive ones are not obtainable from him before the update that adds them in his pool.