This page is incomplete and needs your help!
Will you help our RainbowTail Wikia by editing this page?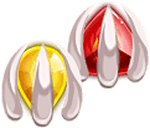 Bone Jails are the obstacles appears in Rainbowtail (Game). It is when a gem of any color is encased by a bone structure. The gem inside cannot move until matched with two more of its kind of gem.
Gems trapped by Bone Jails can not be moved. Bone Jails can be destroyed by creating a match with the trapped gem, or by a Gemling's blast.
Ad blocker interference detected!
Wikia is a free-to-use site that makes money from advertising. We have a modified experience for viewers using ad blockers

Wikia is not accessible if you've made further modifications. Remove the custom ad blocker rule(s) and the page will load as expected.